Supperb White Temporary Tattoos - Hand Drawn Inspired White & Black Flowers White Roses (Set of 2)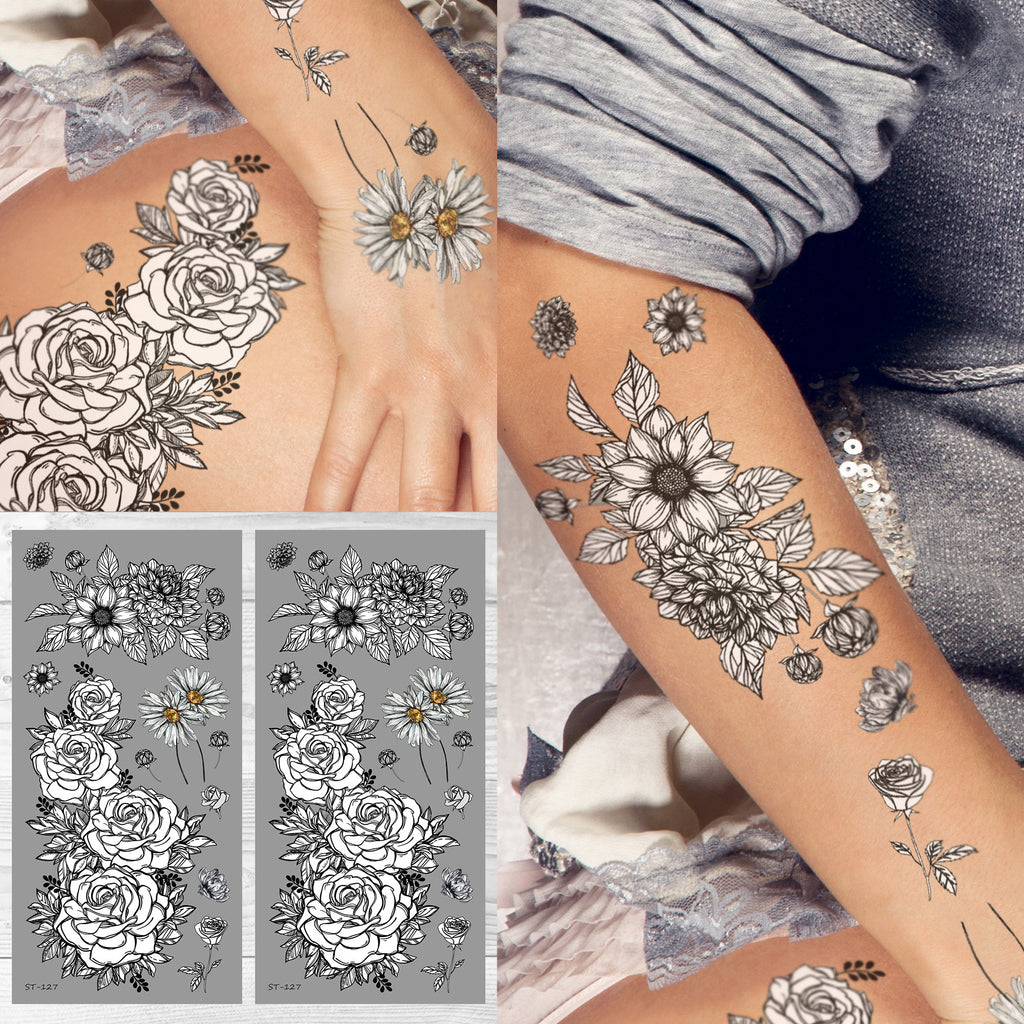 2 sheet of Supperb® temporary tattoo.
Safe & non-toxic, printed with vegetable-based ink.
Waterproof; Average last for 2-4 days.
Sheet Size: 8 x 4 inches wide and tall (20 cm x 10 cm).
---
You do realize it looks real?

People will stare at you!

But only for days, not years

The design rocks. The color pops

You can do and undo, but you will always be yourself. It's cool

Your temporary tattoo goes on any part of your body. Be ready to ignore questions like, "Hey, where did you get your body from?"

Your know what you want and you can do it. Now make a choice and make a difference. It's all about you

Features: What makes it different?

Premium material. Non-toxic veggie ink

Durable. It'll not wash off and will last for 2-3 days (If you don't rub it against clothes, it'll last even longer)

Sheet Size: 8" by 6"(20cm x 15cm). Size doesn't matter. Appearance does

Waterproof. Great for gentle water activities

Easy and quick to apply and remove. You will know how to do it within seconds when you see instructions on packaging.

How to apply?
Cut out tattoo of choice and remove clear sheet
Place tattoo face down on skin
Wet the tattoo thoroughly with a sponge
Gently remove the backing paper after 20-30 seconds
Allow the tattoo to dry
Gently rinse image with water for best effect.
How to remove?
Dab tattoo with rubbing alcohol or baby oil. Wait 10 seconds, rub alcohol or baby oil until removed
How to Make a Temporary Tattoo Last Longer?
Use a soft brush, such as a makeup brush, to gently apply a thin layer of talc or baby powder to the surface of the tattoo.
Disclaimer:
NOT for children under 3 years old. Not for nursing or pregnant women. The baby beside or inside you could be scared of you wearing tattoo and cry.
Exclusively sold by Uni Gifts Shop; Supperb(TM) is a registered US brand.
---
Share this Product
---
More from this collection